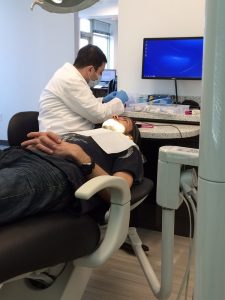 Nowadays, it seems like we are all looking for reasons to smile. If you do not like the look of your teeth or gums, you might skip smiling altogether. A crooked, misshapen, discolored tooth or teeth can ruin your confidence to the point that you no longer act as your natural self in social settings.
An experienced dentist can remedy any dental flaws, optimize your oral health and beautify your teeth/gums to the point that you look forward to smiling. Once a dentist tends to your oral health needs, you will have many reasons to smile.
Dental help to smile more
Dental Enamel Shaping and Contouring
Shaping and contouring the teeth requires removing a certain amount of dental enamel to enhance the look of the teeth. Professionals commonly use enamel contouring and shaping in unison with bonding. With these techniques to change the length, position and shape of the teeth.
We can even remedy overlapping, crooked and chipped teeth. Patients who have minor bite issues or irregular teeth will have plenty of reasons to smile after shaping and contouring their teeth to perfection.
Looking for Reasons to Smile? Teeth Whitening Will Help
White teeth are essential to a truly bright and cheerful smile. We can help whiten your teeth to the perfect shade for visual uniformity across your mouth. The shade of white you select with the assistance of your dentist will suit your unique skin tone and other considerations.
The whitening agent eliminates stains from teeth. Dentists provide each patient with a customized teeth whitening tray to guarantee the optimal amount of whitening solution to each tooth.
Composite Fillings
A cavity will require a filling yet the silver amalgam variety will not suffice unless the tooth in question is in the very back portion of the mouth. It is possible to replace those unsightly silver fillings with the more aesthetically pleasing composite variety. Composite fillings match the color of the other teeth to form a smile that is visually symmetrical.
Bonding
Dentists often use bonding materials color coordinated with patients' teeth to remedy excess spacing issues between teeth. Bonding is also helpful for enhancing the look of cracked, broken, chipped and stained teeth. Dental bonding can typically be completed in as little as one visit to the dentist.
Porcelain Veneers
It is crucial to address a chipped, slightly crooked or poorly shaped tooth. Dentists typically apply porcelain veneers to teeth that have an abundance of space between them. Veneers are also useful for helping teeth that have deep stains. The customized shell consists of porcelain to cover the front portion of the teeth and alter the shape/color.
The dentist buffs the tooth prior to cementing the veneer in position. He or she uses a UV light beam to harden the cement that connects the veneer to the tooth. Veneers are commonly favored as they tend to last longer than other options like dental bonding.
So…
Call (703) 745-3227 today to reach Titan Dental Care.
---
Related Posts
January 25, 2019
Wondering which Smile Makeover option you should choose so you can always be proud to show off your smile? Firstly, good for you for looking into your options for making over your smile. There have …
---